150WQ Vertical Centrifugal Submersible Sump Pumps for Pond, Vertical Marine Pumps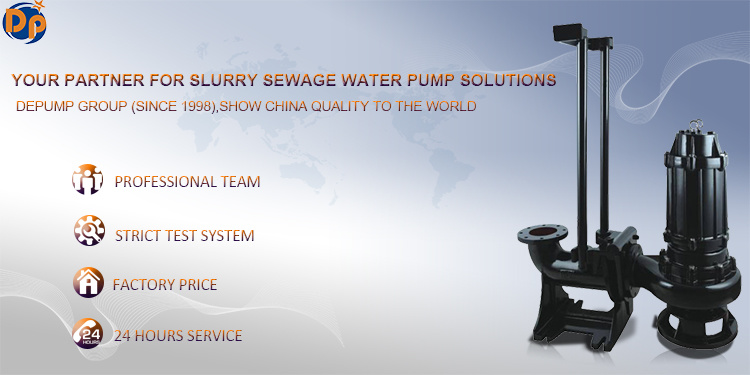 WQ
series submersible sewage pump is mainly used for municipal works, industrial buildings, hotels, hospitals, civil air defence, mines, etc. Trades to drain off the sewage, waste water, rainwater and living water in cities containing solid grains and various long fabrics.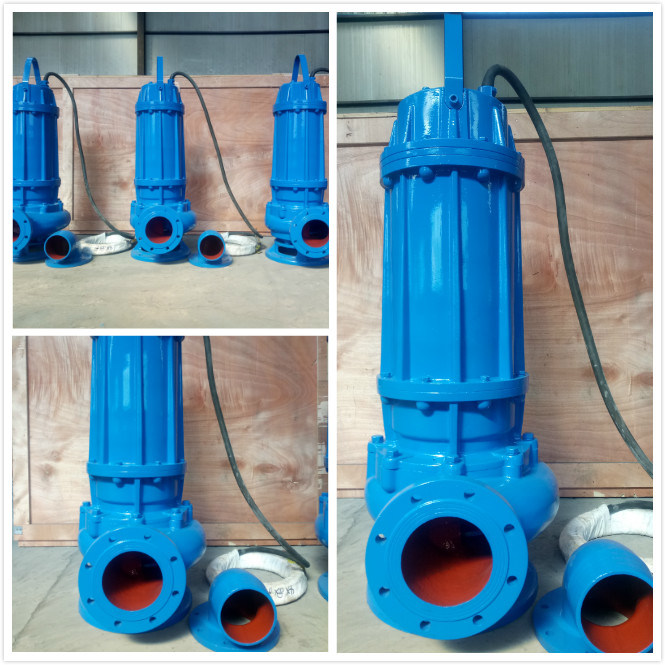 Characteristics:
150WQ200-22-22 TYPE SEWAGE PUMP
Model
150WQ200-22-22
Capacity
200 m3/h
Head
22 m
Power
22 kw
Color
As Customer Required
Casing material
Cast iron
Wet ends material
Cast iron
Shaft material
45# steel
Shaft seal
Mechanical seal
Curve:




Dimension drawing: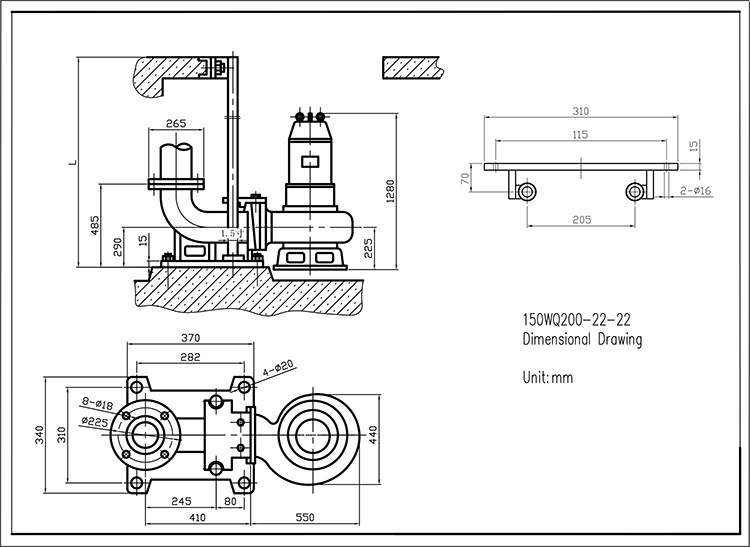 Features: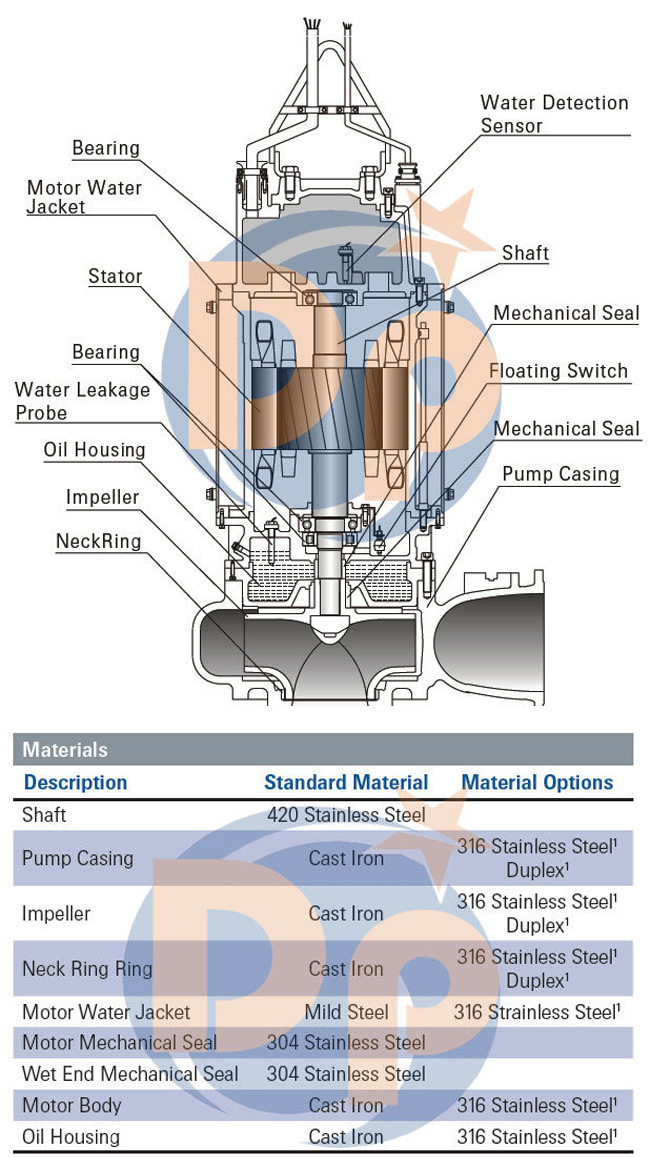 Materials

Description
Standard Material
Material Options
Shaft
420 Stainless Steel
Pump Casing
Cast Iron
SS316/ Duplex
Impeller
Cast Iron
SS316/ Duplex
Neck Ring
Cast Iron
SS316/ Duplex
Motor Water Jacket
Mild Steel
SS316
Motor Mechanical Seal
SS304
Wet End Mechanical Seal
SS304
Motor Body
Cast Iron
SS316
Oil Housing
Cast Iron
SS316
Conditions of use
1. Medium temperature should not be over 40degree, the density no larger than 1200kg/m, and the PH value within5-9.
2. During running, the pump must not be lower than the lowest liquid level.
3. The maximum diameter of the solid grain going through the pump has not be larger than 50% of the pump outlet.
The above pump performance for reference only, details please contact us!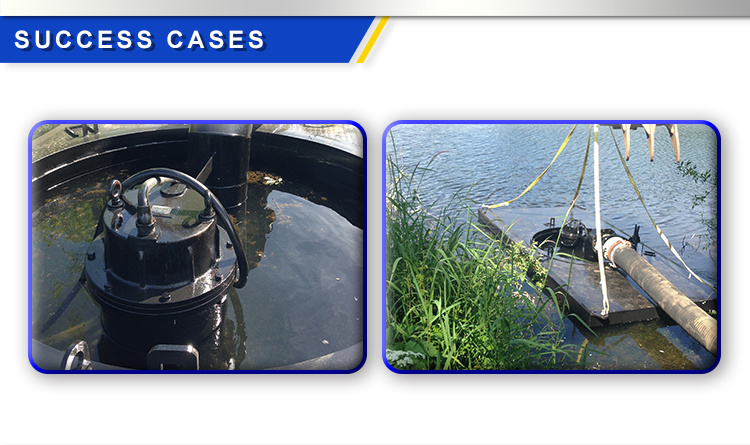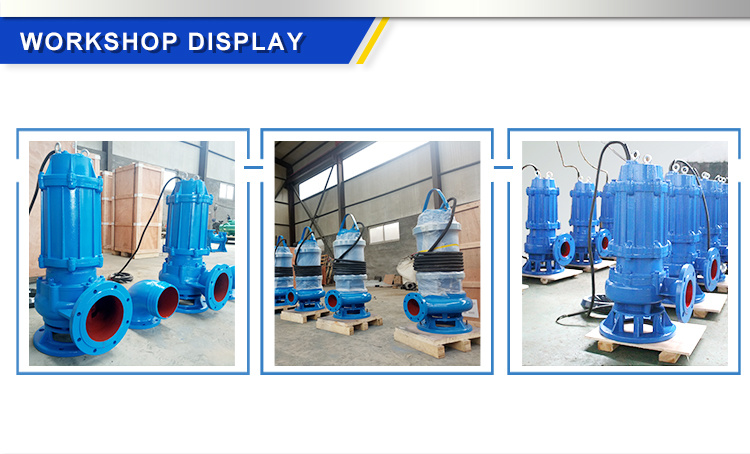 FAQ
1. What is your product range?
A: centrifugal pump. Centrifugal pump includes slurry pump, gravel pump, clean water pump, sewage pump, chemical pump, self-priming pump and diesel engine pump.
2. What's your MOQ, payment term and lead time?
A: MOQ for centrifugal pump is 1set, MOQ for conveyor belt is 100cbm.
Payment Term: T/T, L/C, Western Union, Paypal and Trade Assurance.
Lead time: in general 7 working days for slurry pump, 15working days for water pump.
3. What information should I let you know if I want to get a quotation:
A: Pump capacity, pump head, medium, medium temperature, pump material, quantity, if possible, please also provide the pump model you are using now, price will be calculated as per the pump model, if not, we will recommend relevant product for reference.
4. If I put a bigger motor on my pump, will it pump more?
A: No. The amount of water and the pressure (head) that a centrifugal pump process is related to the rotational speed, impeller diameter and size of the impeller vanes.
5. Do you impact the finished product?
A: Yes, each batch of production and finished product will be quality checked strickly before delivering, testing report or video can be sent to clients for reference.
6. How do you ship the finished product?
A: By sea, By air, By international express.
Inquiry of Pump
1. Head: _____meter
2. Capacity: _____m3/h
3. Liquid media: ______
4. PH: _____
5. Concentration: ____%
6. Temperature: _____degree
7. Specific density; ______kg/m3