Submersible pump solar borehole pump solar deep well pump motor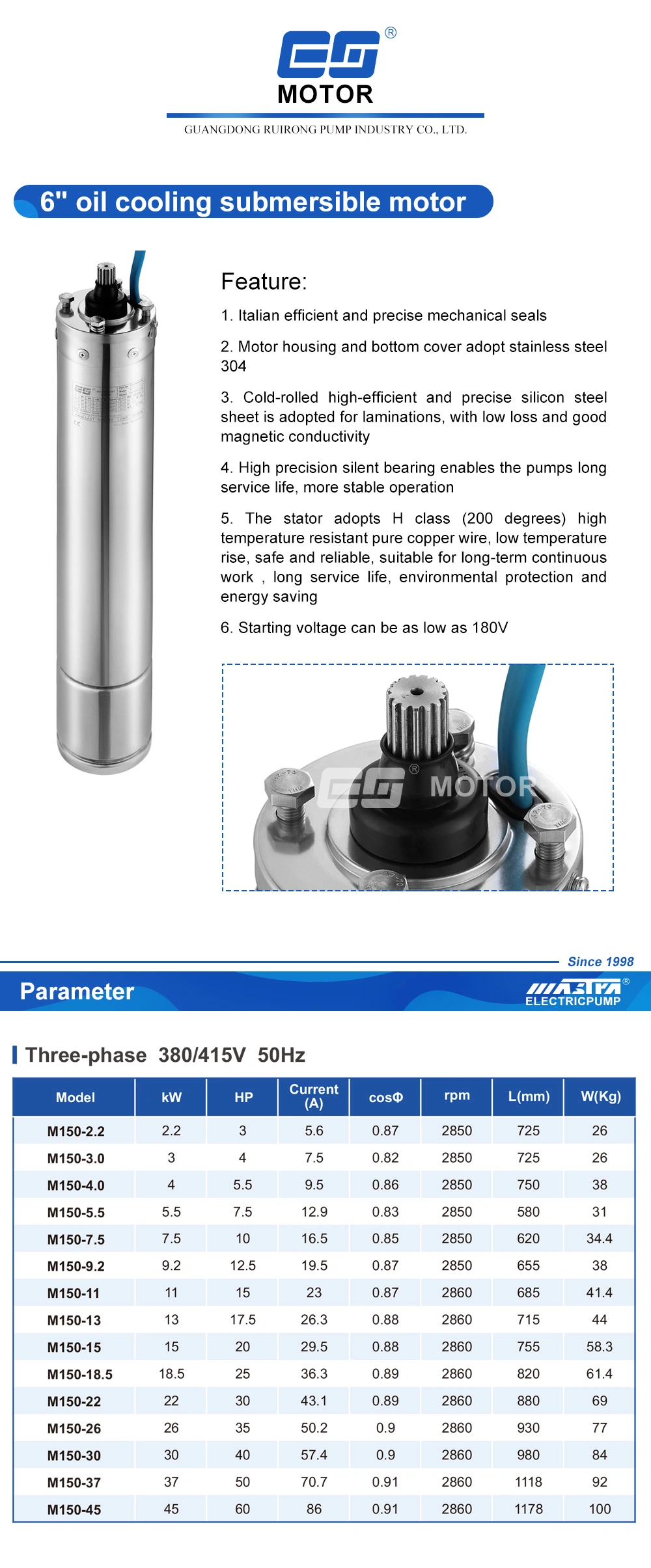 Possesses the advantages of high efficiency, energy saving and environmental protection.
Meet the requirements of standard IEC34-1 with sealed water cooling lubricated configuration, non-polluting.
The dimension of flange and spline meet the requirements of NEMA standard (USA National Electrical Manufacturing Association)
The outter shells of motor and the shafts are made of stainless steel as well as the fixings. Other parts are rustproof.
The main bearing and the thrust bearing have the character of anti wearing and undertake higher thrust load.
With anti-sand installation and reformed butyl-rubber pressure equilibrium membrane.
Power: Three-phase, 5.5kw-37 kw
Voltage and frequency: Three-phase, 380V/460V, 50/60Hz.
Protection device class: IP68
Surrounding water temperature should not be higher than 30 celsius degree.
The content of solid should not be higher than 0.01%
pH value of water: 6.5-8
Thrust load: 15, 500N
Flat cable with individual ground wire: 3x6.0mm2 or 3x10 mm2 water proof connect cable. Cable length: 1.5-4m
History: 21 years of experience in submersible pumps.
Products: 3'' 4'' 6'' 8'' submersible pumps, 4'' re-windable oil cooling submersible motors, 6'' 8'' water cooling submersible motors, 6'' stainless steel submersible motors. Sewage pumps. Multistage submersible pumps.
Technical: Italy pump and motor technology, NEMA standard
Certificate: CE, ISO9001: 2000
Productivity: 250, 000 sets/year.
OEM services available.