>>> Product Features
1. The impeller adopts particular large channel structure, so the drain capacity has been improved greatly, it can be effectively pass the solid grain whose diameter is about 50% of the pump caliber.
2. Mechanical seal adopts the latest material and is made with extra care, so its life is over 8000 hours.
3. It can adopt double-way and automatic coupling installation device which makes the installation, maintenance of the unit convenient and quick.
4. To realize automation management we will equip various forms sewage special control cabinet according to the customer's requirements.
>>> Product Supply Scope
Pump, packing and specification. Pump automatic coupling installation device, soft pipe, automatic controllers etc can be probided as accessories (accessories shall be valued separaely).
>>> Product Application
1. Living waste water discharging
2. Sewage system of municipal works
3. Sewage system in factory and mine corporation
4. Temporary floodwater discharging
5. Waste water discharging of public facility
6. Various water-discharging system
>>> Product Model Meaning
80WQ50-10-3
| | | |
| --- | --- | --- |
| No | Name | Meaning |
| 1 | 80 | Outlet diameter |
| 2 | WQ | Submersible sewage pump |
| 3 | 50 | Capacity |
| 4 | 10 | Head |
| 5 | 3 | Motor Power |
>>> Use, Check and Service
1. Precaution at use
1), It is not proper to use the pump in a medium environment easy to explode and burn and to extract any inflammable liquid.
2), It is strictly prohibited to impact or press the cable and use it as a lifting rope, and pull it at when the pump is running so as not to damage it, which may result in an electric shock, or lowering the cable seainess, or the insulation performance of the wiring box of the motor.
3), When to use the way of fixed automatic coupling installation, lift or lower down the pump with the lifting chains locking the handle and take care to handle it.
4), The pump has to be vertically lifted when it is placed in water and not horizontally landed, further more, not sunk into sludge.
5), A flow regulating valve must be equipped with the spitting pipeline to avoid overload of the motor due to a too heavy flow.
2. Check before use
1), Carefully check if there is any deformation or damage with the pump and any looseness fall-off with the fasteners during transport, storage and installation.
2), Check if any damage or fracture with the cable, if the seal on its inlet intact and make a proper treatment in time if any possible leakage or bad seal is found.
3), Measure the insulation resistance between the phases and between the phases and ground with a 500v megohm 2 meter, the value of which has not to be lower than megohm, otherwise a drying treatment must be taken for the stator winding of the motor with a temperature not over 120 degrees or notify the manufacture for help.
4), Check if there is oil in the oil chamber and do not stop filling it until it over flows on the filter check if the screw cork and sealing pad on the oil chamber are full and if the screm cork and presses the sealing pad on tight.
5), Check if the impeller rotates flexibly.
6), Check if the power device safe, reliable or normal and if the grounding wire inside of the cable reliably grounded.
7), Before placing the pump in the pool, check if it is in a correct, direction of rotation by way of dot moving and cut off the power and change the U, V, W three wires with any two of which in the electric control cabinet if not correct.
3. Starting
Close the flow regulating valve on the spitting pipeline at starting and gradually open it when the pump gets in the full speed running. Note the pump can not run for a long time with the valve closed.
4. Stopping
Lift the pump, clean it and place it in a dry place when intended not to use it up to half a month and lift it out of the water and let the liquid in side of it drain out to prevent it from being frozen when the temperature is very low.
5. Periodically check the insulation resistance between phases and between phases and ground, otherwise it has to be removed to overhaul, and, at the same time, check if the grounding is secured and reliable.
1), Replace the seal ring with a new one when the max, interval of it, mounted on the impeller neck and pump casing, is over 2mm.
2), After half a year running of the pump under the provided working medium condition, check the state of oil chamber and replace it with N10 mechanical oil fit shows emulsified state. It is possible that the mechanical seal on the pump, side is made damaged when the leakage probe-gives a warning with the pump running for as short time after the oil replacement and replace it at once. More often check the pump when it is used under a very adverse working condition.
3), After one year work of the pump under the normal working condition, abiggover haul must be taken for replacing the worn-out parts, checking the fasteners, at the same time, menting or replacing the grease on the bearing so as to ensure a good lubrication of the pump during its running.
4), To disassemble. do not knock as is at will in order to avoid damaging the seal and non-skilled person do no tallow for avoiding causing motor leakage or damage.
>>> Warning
1. Never pull the cable with force.
2. Have the submersible electric pump submerged into water completely when it is at work and never let it out of water.
3. Reliably groud the electric pump when it is at work and never let it any animals pr persons close to the working water area or touch it.
4. Never let it work out of the set range of head so as to prevent it from overloaded running.
5. Use a properly thicker cable when the power is far away to avoid a lower voltage.
6. After the power is turned off, do not lift it up water until the motor of it gets cooled so as to avoid explosion or other accidents.
>>> Prodcuct Image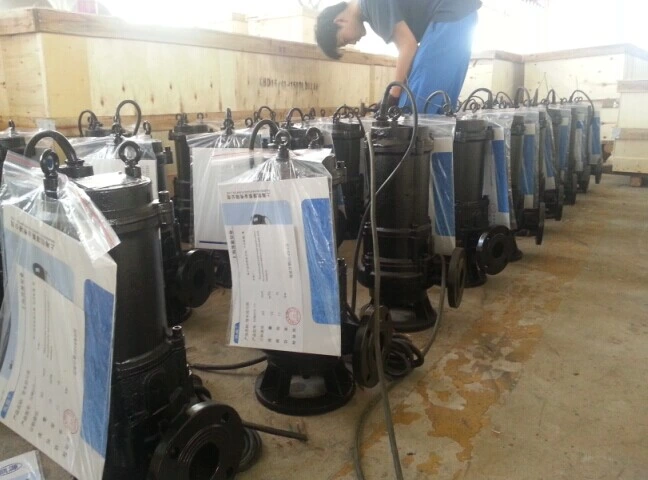 >>> Company Information&Advantages
Shanghai Kaiyuan provides booster pumps, submersible pumps, sewage pumps, fire fighting pumps, multistage vertical (horizontal) water pumps, diesel engine water pumps, water supply equipment and other pumps. Here we have modern production base of 60000 square meters, and 3000 square meters of office, professional R&D institution and technology team, which makes us a world-class company. At present, we have two factories, one is in Fengxian District, Shanghai City; the other is in Nantong City, Jiangsu Province. So welcome to visit our factory.

1. Punctual delivery time:
We put your order into our tight production schedule, keep our client informed about production process, ensure your punctual delivery time.

Shipping notice/ insurance to you as soon as your order is shipped.
2. After sales service:
After receiving the goods, We accept ur feedback at first time.

We could provide installation guide, if you have need, we could give you global service.

Our Sales are 24-hours online for ur request.
3. Professional sales:
We value every inquiry sent to us and ensure quick competitive offer.

We cooperate with customer to bid tenders, and provide all necessory document.

We are a sales team, with all techinical support from engineer team.
Shanghai Kaiyuan Pump have many global clients, we offer professional service to them. With the aim of "to establish a close strategic partnership and develop together with customers". we will work whole hearttedly to improve our products and service. We will also pledge to work jointly with businese partners to elevate our corporation to a higher level and share success together with our customers. We are looking forward to establishing with you and your esteemed company in the near future.