No Leakage Dirty Water Submersible Pump for sale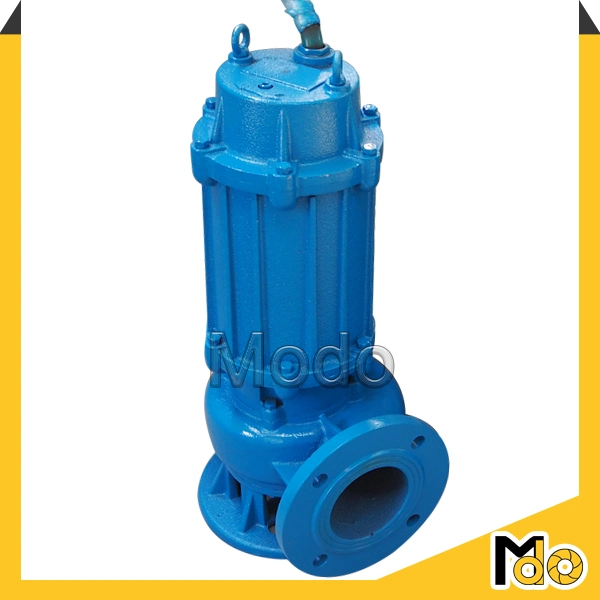 Characteristics
| | | |
| --- | --- | --- |
| ·Type: | ·Media: | ·Application: |
| centrifugal | slurry | macerator |
| ·Other characteristics: | ·Flow rate: | ·Pressure |
| horizontal | Min.:0m3/h | Min.: 0Pa |
| | Max.: 5000m3/h | Max.: 2020000Pa |
| ·Head | | |
| Min: 0m | | |
| Max: 73m | | |
Description
The Modo WQ Series Submersible Sewage Pumps are electro submersible centrifugal pumps designed for pumping waste water, effluent and solids laden water in municipal, industrial, mining and civil construction applications.
| | |
| --- | --- |
| Outlet Diameter | 150-800mm |
| Capacity | 112-3600m3/h |
| Head | 9-140m |
| Rotation Speed | 970-2950r/min |
| Power | 18.5-850kW |
Features
The wear parts are made of high-chrome alloy of abrasion resistance.
High efficiency and energy efficiency.
Light weight and long service life time.
Rational construction and reliable operation.
Lower noise and vibration of the pump translates into improved hydraulic efficiency.
Application
Transfer of abrasives large particles and high density slurries from sumps and pits in:
Mining
Civil Construction
Industry
Coal Preparation
Mineral Processing
Chemical Processing
Details
Bearing Assembly
Bearing: SKF TIMKEN FAG
Shaft: SS 410
Wet End
A05 Polyurethane
A07 Rubber
A49
Fastener
Galvanized
Stainless Steel
Sealing
Mechanical Seal
PTFE Packing
Hi-Seal
FAQ
A: What kind of company you are?
Q: We are centrifugal pump manufacture located in Boy Town, Baoding, China, with more than 20years experiences. We were gaining good reputation among our customers for our professional, warm and thoughtful service. Because we know that a long terms business based on the quality control, price, packing, delivery time etc.
A: What's the quality assurance you provided and how do you control quality?
Q: Established a procedure to check products at all stages of the manufacturing process: Casting, Heat treatment, Machining, Assembly, and Testing.
Q: Can you install the motor or diesel engine with the pump for us?
A: yes, we can, it's no problem, and we are experienced in this.
Q: What's your MOQ?
A: Trial sample order is OK.
Q: What are your payment terms?
A: T/T, L/C, D/P, D/A......
Q: What certificates do you have?
A: CE, ISO 2008, UL.....
Q: How about the warranty?
A: One year warranty for pumps, it depends on other pump working condition details.
Q: What is the delivery time?
A: 15-30 days according to customer quantities.
Q: Can you do OEM brand?
A: Yes, Welcome.
Q: What information should I offer to get pump solution?
1, Material:
2, Head: m
3, Flow: m3/h
4, Medium size: mm
5, Particle shape (smooth or sharp):
6, Medium pH level:
7, Temperature:
8, Drive type:
9. Power supply:
Contact me for detail offer with curve and drawing!


Helen Gao
Mob: +86 158 3083 2118
Tel: +86 312 6791280
Fax: +86 312 3085383