Features:
1.DC 12 powered, 0.4A max. loading current, 200L/H max. flow rate, 1.5M max. lift, 4.8W power consumption.
2.Mini size, high efficiency, long service life and low noise level.
3.Ceramic shaft and carbon graphite seal, low coefficient of friction.
4.Brushless, no mechanical wear, electronic commutator.
5.The electrical parts are sealed with epoxy, 100% waterproof and leakage proof.
6.With 3 suction cups at the bottom of the pump for keeping it in place.
Specifications:
| | |
| --- | --- |
| Name | DC 12V Aquarium Submersible |
| Driving Method | Brushless,Permanent Magnetic |
| Pump Material | PA66+30%GF |
| Size | 4*3.5*5mm |
| Net Weight | 0.11kg |
| Condition of use | Submersible |
| Fluids | Fresh and salt water |
| Max working temp | 60 Celsius |
| Power consumption | 4.8W |
| Rated voltage | 12vdc |
| Max rated current | 0.4A |
| Max flow rate | 200L/H |
| Max static head | 1.5M |
| Noise | <35dB |
| Waterproof class | IP68(Can be submersible installed) |
| Life span | More than 30,000 hours |
| Power supply | Solar panel,DC eletric source,adapter,battery |
| Protection function | Dry run and blocking protection |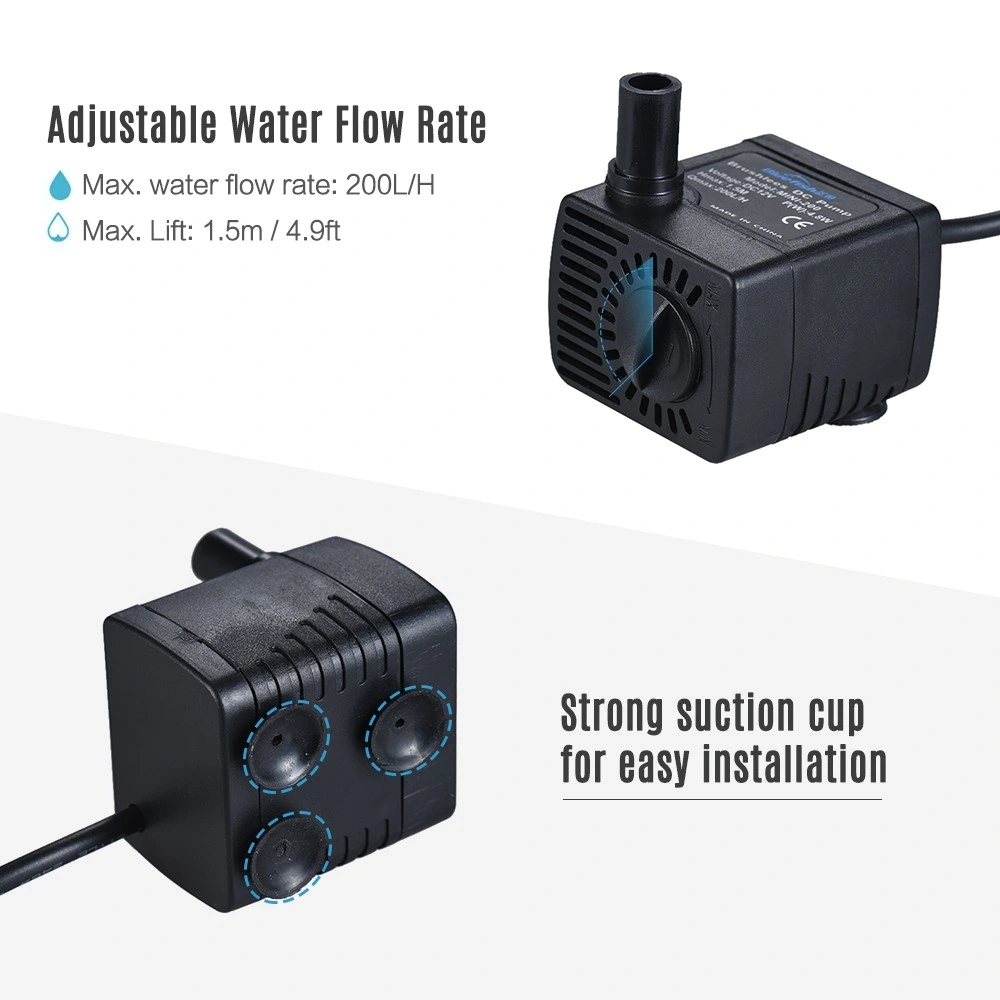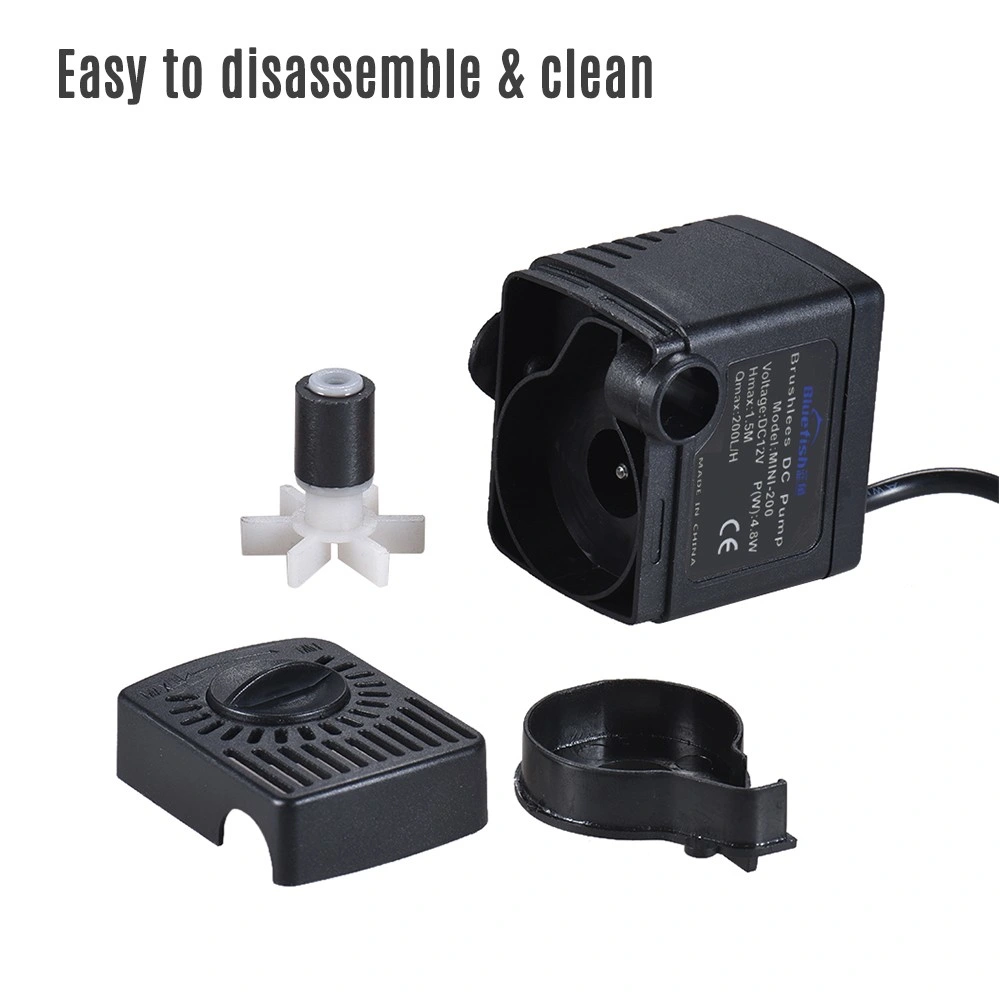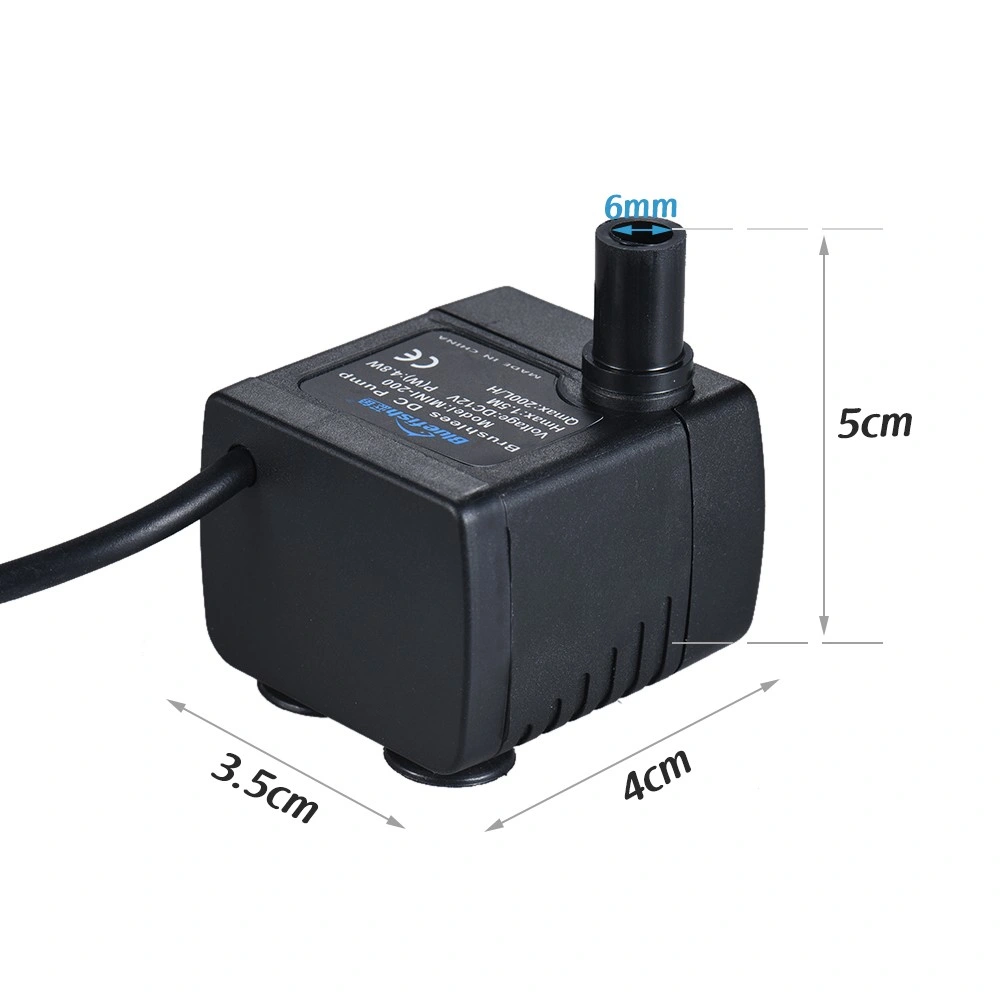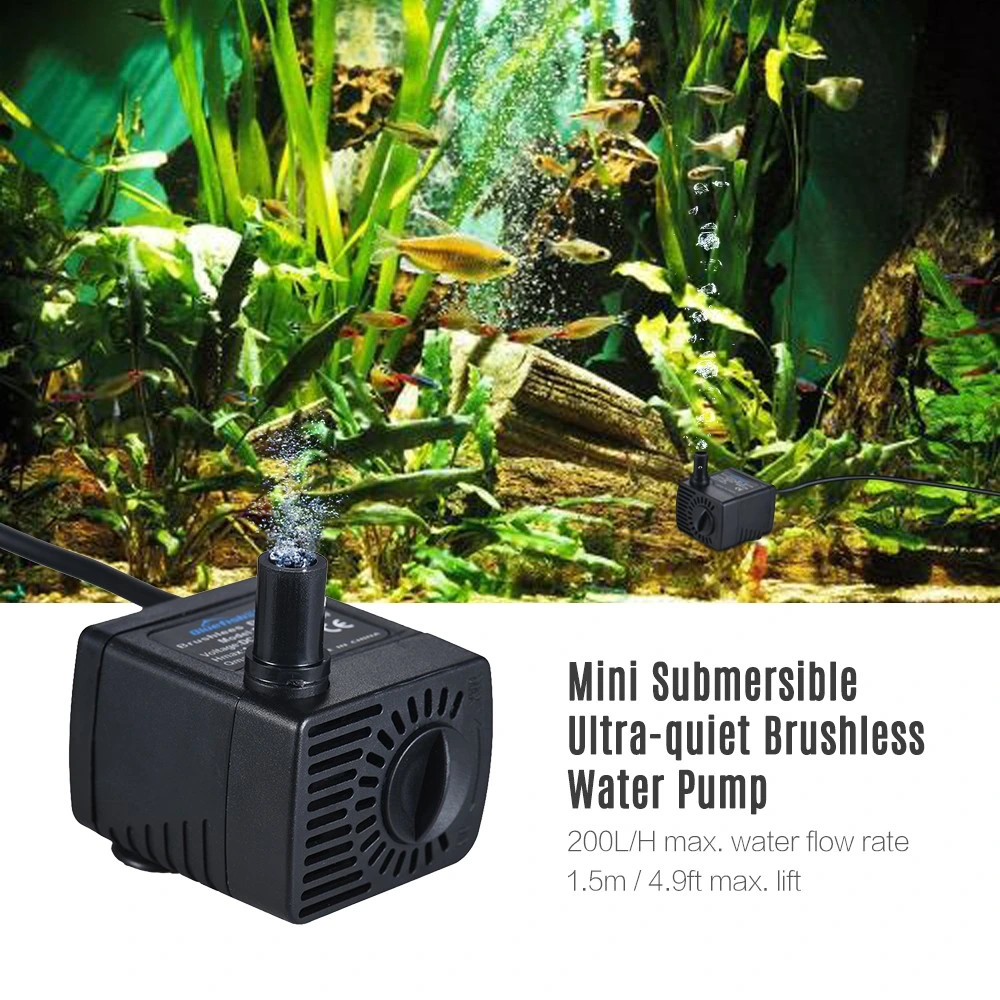 About Bluefish Pump Company:
As one of the leading small DC water pump companies in China, we produce brushless DC pump from 2009. We ship our special purpose circulation pumps to manufacturers, retailer, and companies worldwide. We are based in the technological heaven of Shenzhen, China. We make sure that our products provide best quality and standard to its customers, OEM/ODM service is available. Looking forward to establishing a healthy business relationship with you!
Customized Service Content:
1. The label on the surface of the Water Pump.

2. Box of the Pump.

3. Power Cable Length.

4. Type of Connector Plug.

5. Waterproof Power Supply.

6. Water Shortage Protection.

7. Others, please communicate with us.
Customized Quantity Requirements:
100 pcs
Additional Cost:
We will not charge any additional fees except the cost of raw materials. Usually, the unit price will be only a little higher than the normal standard model pump.
How to choose pumps:
1.Confirm your operating voltage,current,head,flow,and the size of inlet & outlet. In general, there is no flow when the head achieve the maximum head marked by factory. So if you require the pump is able to meet a certain height and also meet a certain flow, you should choose a higher maximum head than you need.Please consult us or refer to the performance curves.
2.Confirm the shape requirements, such as the type of interface, the direction of inlet & outlet, etc.
3.Confirm the working environment, such as the temperature,the medium, etc.
4.Confirm the functional requirements, such as the time control, the flow control, the speed control, etc.
5.Please feel free to contact us if you have any questions need our help during choose the pump.
Why choose us?
1.Quality Control


To ensure the quality of our pumps and other products,Our QC staffs do strict supplier evaluations,in-coming inspections,in-process inspections,final inspections and pre-delivery inspections.The most important is that we listen to what our customers say and are always looking for ways to improve the quality of our products through continuous improvement.



2.OEM Ability


We have built stable and long-term cooperate relationship with supermarkets,we can also provide ODM,OEM and Agent services to our customers over the world.



3.Parts Available


We have spare parts for immediate delivery to anywhere in the world.While our pumps become standard with more features than anyone else, we also offer more optional parts for our pumps than anyone else.



4.Good Warranty


We take customer satisfaction and product quality as the first priority for us. We supply reliable warranties and good after-sales services.



FAQ:
1.*Q:Can I get samples from you?
A:We are honored to offer you samples for quality check.
2.*Q:What parts are manufactured by you?
A:80% of frame parts are manufactured by us.Spare parts are from China top 10 famous suppliers.
3.*Q:What's the leading time?(How long do you need to prepare my goods?)
A:10 days for sample orders.30 days for mass production orders(based on different quantities)
4.*Q:How long do I need to wait before my goods arrive?
A:3-5 days for international express.5-7 days for air transportation, 35-40 days for sea transportation.
5.*Can you put my brand name(logo) on these products?
A:Yes,or container order.Sticker order qty over 100pcs.
6.*Q:What payment methods do you accept?
A:T/T,L/C,Western Union,Money Gram,etc.
7.*Q:What certificates do you have?
A:Since Europe and America are our main markets,all of our products are with CE/ISO certificate.For some models,the certificates are already available.For other models,we will need your assistance to apply the certificates.
8.*Q:What is your product quality?
A:Our raw materials are purchased from qualified suppliers.And we have a strong quality control team to guarantee our quality.We always care what you care!!
9.*Q:What is your warranty?
A:Our warranty is 24 months after delivery.We always pay high attention to after sale service!!
10.*Q:How are parts availability?
A:We keep stock of spare parts and make sure all parts available whenever you need.